Pokémon Fossil Museum Exhibition
Pokémon Fossil Museum Exhibition
---
A limited time 'Pokémon Fossil Museum' exhibition will be touring several cities across Japan, giving Pokemon fans the opportunity to learn about the world of palaeontology in a fun and entertaining ways.
The exhibition will be teaming up with a number of popular museums across Japan, including the National Museum of Nature and Science Tokyo, Mikasa City Museum, Gunma Museum of Natural History, Toyohashi Museum of Natural History and Shimane Prefectural Sanbe Nature Museum Sahimel.
Excavation Pikachu, dressed as an archaeologist will guide guests throughout the Pokémon Fossil Museum, where they will be able to see original 'Kaseki Pokémon ' artwork and full-scale sculptures depicting the fossils of Pokémon, including life-sized skeletons of Tyrantrum and Bastiodon.
The Pokémon fossils will be presented alongside actual dinosaur fossils so budding palaeontologists can compare Pokemon to their real-world counterparts and inspiration.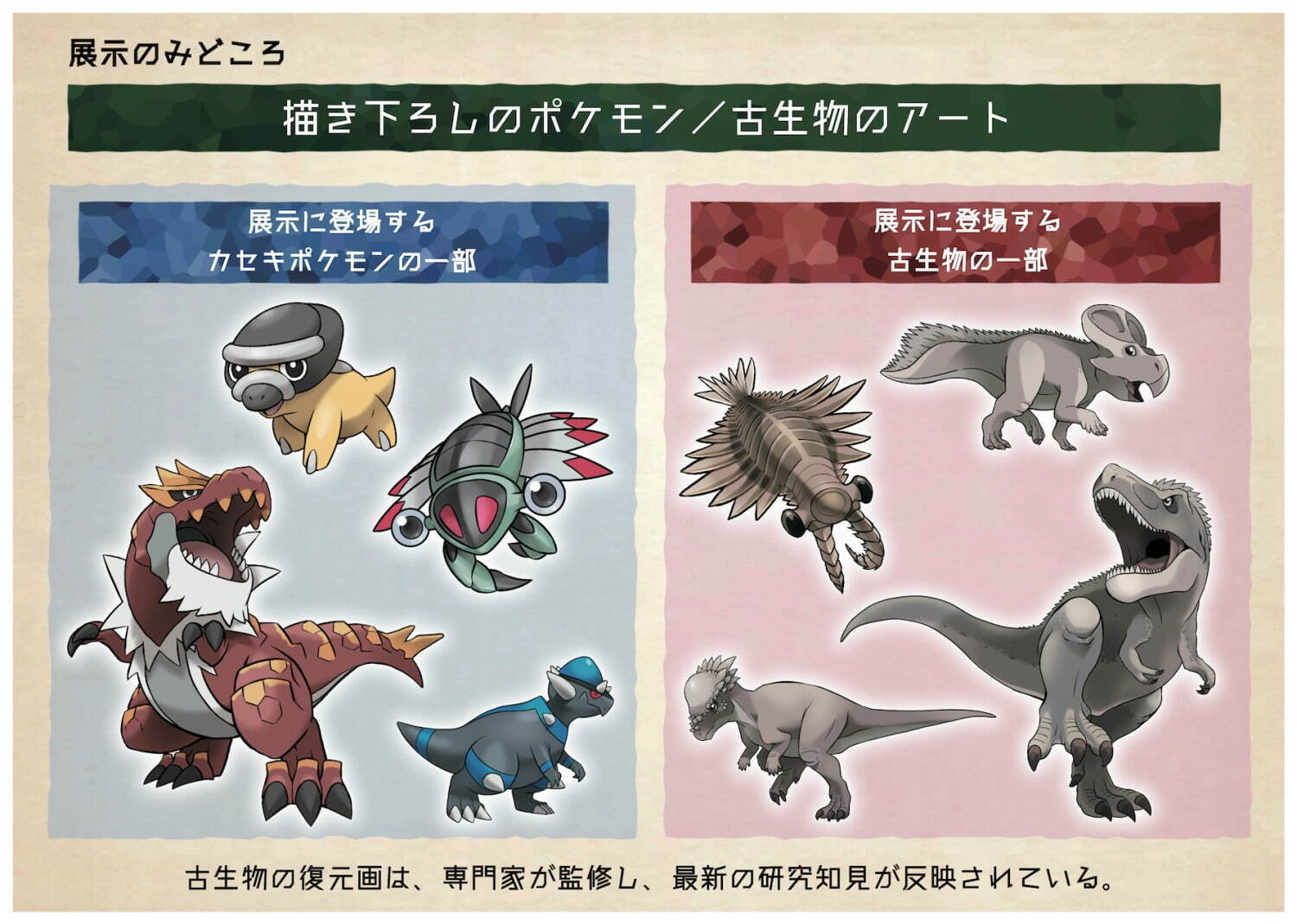 The official Pokémon Youtube channel has published a promotional video for the Pokemon Fossil Museum, featuring footage of what guests can expect at the travelling exhibition.
Tour Schedule
The Pokémon Fossil Museum first debuted in Mikasa City, Hokkaido from 4 July to 20 September 2021, and is intended to continue to tour Japan through summer 2023. Three venues have since been announced, starting with the famed National Science Museum. Additional venues and dates will be announced at a later time. Reservations are required to attend the Pokémon Fossil Museum.
National Science Museum
Date: March 15, 2022 (Tuesday) ~June 19, 2022 (Sun)
Address: 7-20 Ueno Koen, Taito-ku, Tokyo
Opening hours: 9: 00-17: 00 (Last admission 16:30)
Pricing: General Admission ¥1,200, Student: ¥400
Pre-order tickets from February 21, 2022
Toyohashi Museum of Natural History
Scheduled to be held: Summer 2022
Opening hours: 9:00 to 16:30(Last entry 16:00)
Oita Prefectural Art Museum
Scheduled to be held: 2022
Opening Hours: 10: 00-19: 00(Admission is 30 minutes before closing) *
Friday and Saturday until 20:00
Merchandise
Related official merchandise will be available to purchase at the exhibition featuring Excavation Pikachu and Kaseki Pokemon. The collection features plush toys, bags, shirts, stationery and other collectables.
Merchandise Price List:
Plushie Excavation Pikachu: ¥2,310
Pokémon Fossil Museum Catalog: ¥1,980
Colour-Changing Mugs: ¥1,980
T-shirts (main, monster, silhouette): 130cm, 150cm, ¥3,300 each / One-size Fits all: ¥3,520 each
Bandanas ( skeleton / silhouette): ¥1,320 each
Tote Bags (silhouette / skeleton): ¥1,980 each
General-purpose Notebook: ¥330
4P memo: ¥605 yen
Clear File (main / skeleton): ¥385
Knock type Eraser (Orange) / Knock type Eraser (Blue): ¥385 each
Can badges -12 Types Selected at Random: ¥495 each
Acrylic Key Chain: ¥715 each 
Rubber Key Chains (Wink / Walk): ¥858 each
Pro tip: Convert Japanese Yen prices into US dollars by dropping the last two digits in the price in yen. Example: ¥2,000 (or sometimes written 2,000円) is about US$20. That's roughly how much it is in US dollars (give or take a few dollars).
Information and Images from National Museum of Nature and Science.
More on Tokyo Disney Resort
Tokyo Disney Resort Guidebook
Are you planning a trip to Tokyo Disney Resort? If so, you need our digital guidebook! Our guidebook is the most comprehensive resource available, covering everything you need to know about the park, including tickets, hotels, restaurants, attractions, shows, seasonal events, and more! With our guidebook, you'll be an expert on Tokyo Disneyland and Tokyo DisneySea before you even set foot in the Parks. You'll know what to expect, where to go, and what to do. You'll also be able to avoid the crowds and make the most of your time.
Get tickets for Tokyo Disney Resort
It's vital to buy your tickets ahead of time for Tokyo Disneyland and Tokyo DisneySea. Read our comprehensive guide on tickets to learn how to purchase tickets. For recommendations on SIM cards, portable Wi-Fi devices, travel insurance, cheap flights, and hotel bookings, read our travel resources page.
Learn more about Tokyo Disney Resort
Want more Tokyo Disney content? Browser our dedicated page for everything Tokyo Disney Resort!
Support Us
Enjoy our content? Support us on Patreon as it helps us continue bringing you content to help you plan your trip!
Follow us on YouTube, Instagram, TikTok, Twitter, Facebook, and Pinterest.
Buying services through these links at no extra cost to you help support TDR Explorer. Some links may be affiliate links to services I recommend. Please read our full disclosure for more details.