Tokyo Disneyland Christmas 2022 Guide
---
Disney Christmas returns to Tokyo Disneyland and Tokyo DisneySea from November 8 – December 25, 2022, with decorations, food, merchandise, and festive entertainment! While the past two Christmas seasons featured minimal offerings, this year will see the return of many Christmas favourites.
If you're on the fence about whether or not to visit for Halloween or Christmas, our article on when to visit gives tips on how to visit the park for both seasons.
It is important to note that all entertainment is included in your park admission and runs daily during the dates mentioned above. There's no separate Christmas party event like Walt Disney World.
Things to Know
There is no hard-ticketed party (meaning there is no Mickey's Very Merry Christmas Party)
The Disney Christmas events are part of your day ticket at no extra cost
Decorations start going up the day after Halloween ends
Decorations, snacks, merchandise, and entertainment all end after December 25
(Read More: Buy your tickets for Tokyo Disneyland in advance and save time & money)
Best Time to Visit
As of this writing, Japan's borders will open from September 7th for tourists who book with a travel agency. You can buy your tickets one month in advance if you live in Japan.
The best time to visit Tokyo Disneyland for Christmas is in November when the weather is still fair at 12°C (54°F) on average. December becomes much colder with an average of 8°C (46°F) and sometimes drops below 0°C (32°F) in the evenings.
Read our guide on what to wear to stay warm
Avoid November 3 (Culture Day) and 23 (Labor Thanksgiving Day)
Weekdays (Tuesday to Friday) are usually not too busy
Use the Tokyo Disneyland Crowd Calendar to check your dates and adjust accordingly
Another time to avoid is the dates around "7-5-3 Day" on November 15. While this isn't a public holiday, many people head to the Parks around these dates to celebrate. Read my detailed posts about visiting in November and December.
If you time it right, you can experience Halloween and Christmas on the same trip (a split visit). Halloween ends on October 31, and the Christmas event typically starts around November 8 (depending on the year). While the end of Halloween is a busy time at the Park, the beginning of the Christmas event and a few days before it begins is relatively quiet. This gives you ample time to tour Tokyo and other parts of Japan.
Tokyo Disneyland
Tokyo Disneyland has a fun and whimsical take on Christmas with cheery decorations, special menu items, and merchandise. This year sees the return of the large 15-meter-high Christmas tree in World Bazaar after a two-year absence. The best decorations are in the hub area in front of Cinderella Castle.
This year will see the return of the much-loved Disney Christmas Stories Parade which has been on hiatus for the past two years. The joyful parade features Disney characters in their best Christmas outfits, spreading joy and cheer through memorable Christmas music and great parades. Unlike previous years, this iteration of the parade does not include parade stops due to social distancing requirements.
Christmas 2022 also will also feature the hugely popular Haunted Mansion Holiday Nightmare overlay! The classic attraction overlay has been missing for the last two years, so we're glad to see its return! The Haunted Mansion Holiday Nightmare overlay will be offered until Wednesday, January 4, 2023.
"Star Bright Christmas" will be presented nightly during the Christmas season. The short Christmas-themed fireworks will light up the sky above Tokyo Disneyland and Tokyo DisneySea to a soundtrack of classic Christmas music.
Tokyo DisneySea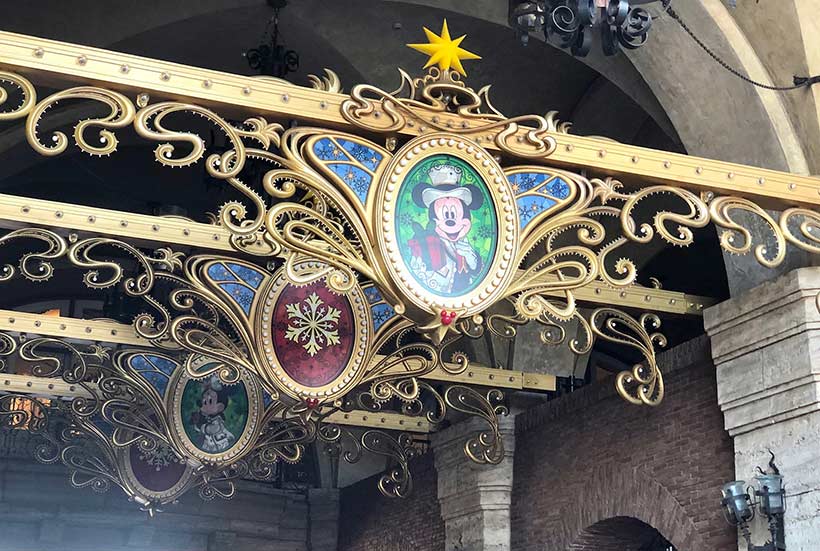 The evenings are the best time to experience Tokyo DisneySea with all the Christmas lights and decorations. Throughout the Mediterranean Harbor, American Waterfront, Cape Cod, and Lost River Delta you will find beautiful decorations for the Christmas season.
"Disney Christmas Greetings" will be performed twice daily on Mediterranean Harbor. The show features Mickey Mouse and friends dressed in Christmas costumes, with a special appearance by Santa Claus himself!
"Christmas Time With You" is a new 25-minute show coming to the Hanger Stage located in Lost River Delta. The show will feature beloved Christmas songs performed by Mickey Mouse and a group of talented performers. The performance will feature images of previous Christmas entertainment at the park and will be performed 4-5 times per day.
Guests can also view the nightly fireworks show "Star Bright Christmas" from Tokyo DisneySea.
Merchandise
At both Tokyo Disneyland and Tokyo DisneySea, goods depicting Mickey Mouse and his Disney friends enjoying Christmas at Tokyo Disney Resort will be on sale from Monday, November 7, 2022. A collection featuring the Disney Christmas fairy, Lil Lin Lin will also be available.
Additionally, Tokyo DisneySea will offer a "Duffy & Friends Winter Twinkling Town" collection which will go on sale from Monday, November 14th, 2022.
Christmas merchandise will go on sale from November 7th.
Some merchandise may sell out and not come back in stock (it's hard to predict what items)
Some items are available at Bon Voyage (outside Maihama Station) and the Resort hotels.
In addition to merchandise, guests can collect a Christmas-themed Disney Resort Line ticket from the automatic ticket vending machines at each monorail station.
Food and Snacks
Get into the Christmas mood with festive food and drink items across the resort.
Over at Tokyo Disneyland, If you're in Christmas spirit then head over to East Side Cafe for a Disney-style Christmas special course. The much-loved Christmas chocolate churros will be available at Camp Woodchuck Kitchen.
At Tokyo DisneySea, Horizon Bay Restaurant will be offering a special set menu. Chocolate churros will be available at Hudson River Harvest on the American Waterfront. Additional menu items will be released sequentially leading up to the Christmas period.
Guests can continue their Christmas feasting at The Disney Ambassador Hotel, Tokyo Disneyland Hotel and Tokyo DisneySea Hotel MiraCosta, which offer delectable-looking set menus.
Tips and Recommendations
Follow my tips and you'll be more than ready for Christmas at Tokyo Disneyland & Tokyo DisneySea:
December 25th is date night and the table service restaurants are busy or fully booked (make reservations in advance)
Food and merchandise are always released the day after Halloween ends (before the event officially begins)
Entertainment and decorations are almost always completely up and running the day before the event starts
I recommend visiting Tokyo DisneySea on Christmas Day for the best atmosphere
Listen to our podcast episodes on Christmas (Subscribe to us on iTunes or Stitcher)
November is a bit warmer compared to December
It gets cold in the evenings, so it's best to dress warmly and layer
Always buy your tickets in advance to avoid long lines at the Park
There are Christmas-themed monorail day passes at the stations within the Resort (choose the machine with the design above it to get the one you want)
Featured photos and information from the Tokyo Disney Resort website.
More Things to Do in Tokyo
My recommendations for things to do in and around Tokyo! Plan a day at the Hello Kitty theme park, Sanrio Puroland, and an afternoon at the popular TeamLab Planets TOKYO. Take a tour around Tokyo with the convenient hop-on and-off bus. Spend a rainy afternoon inside Japan's largest indoor theme park, Tokyo Joyoplis, near Tokyo Disney!
More on Tokyo Disney Resort
Tokyo Disney Resort Guidebook
Are you planning a trip to Tokyo Disney Resort? If so, you need our digital guidebook! Our guidebook is the most comprehensive resource available, covering everything you need to know about the park, including tickets, hotels, restaurants, attractions, shows, seasonal events, and more! With our guidebook, you'll be an expert on Tokyo Disneyland and Tokyo DisneySea before you even set foot in the Parks. You'll know what to expect, where to go, and what to do. You'll also be able to avoid the crowds and make the most of your time.
Get tickets for Tokyo Disney Resort
It's vital to buy your tickets ahead of time for Tokyo Disneyland and Tokyo DisneySea. Read our comprehensive guide on tickets to learn how to purchase tickets. For recommendations on SIM cards, portable Wi-Fi devices, travel insurance, cheap flights, and hotel bookings, read our travel resources page.
Learn more about Tokyo Disney Resort
Want more Tokyo Disney content? Browser our dedicated page for everything Tokyo Disney Resort!
Support Us
Enjoy our content? Support us on Patreon as it helps us continue bringing you content to help you plan your trip!
Follow us on YouTube, Instagram, TikTok, Twitter, Facebook, and Pinterest.
Buying services through these links at no extra cost to you help support TDR Explorer. Some links may be affiliate links to services I recommend. Please read our full disclosure for more details.