Tokyo Disney Resort "Disney's Easter" 2022
---
Disney's Easter is coming to Tokyo Disneyland and Tokyo DisneySea from April 1 to June 30, 2022. The cute and colourful celebration includes characters, entertainment, decorations, food, and merchandise. This is the first Easter event in three years!
In addition to Disney's Easter, there's also a Duffy event called Duffy "Beautiful Rainy Days" at Tokyo DisneySea!
Disney's Easter at Tokyo Disneyland
At Tokyo Disneyland, guests can enjoy the return of the mischievous Usatama in a strange and fun "Usatama Great Escape! Parade. Mickey and friends will wear rabbit ears along with the egg character
"Usatama." The whacky high-energy parade will take place along the Tokyo Disneyland parade route and features 7 floats without parade stops.
The Usatama are characters created especially for Tokyo Disney Resort, making their debut in 2017. The name "Usatama" is a combination of the Japanese words for rabbit (usagi) and egg (tama). As the story goes, Mickey and Friends were using a new Easter egg-making machine, but suddenly the machine started producing strange eggs with arms, legs, and bunny ears! Once created, the new Usatama ran off to cause trouble across Tokyo Disneyland.
Disney's Easter at Toyko Disneyland also includes Buzz Lightyear's Astro Blaster: "Astro Hero Time!, a special version of the popular ride allowing guests the opportunity to earn higher scores by hitting certain targets in the attraction. A special themed photo spot will be available for guests to take photos.
Special Menus
From March 31st, at Tokyo DisneySea during Disney's Easter, guests can treat themselves to spring-themed special menus with desserts with souvenir cups, special drinks featuring hiding Usatama and colourful easter eggs.
Merchandise
Special Easter-themed merchandise will be released on March 31st featuring images of Mickey Mouse and his Disney friends enjoying Easter at Tokyo Disney Resort. The Easter range of plush badges will go on sale from May 10, 2022.
The Disney Resort Line will also sell free tickets with a limited-time design themed to "Disney Easter" at the automatic ticket vending machines at each station. There will also be a Souvenir medal designed by Disney Resort Line available.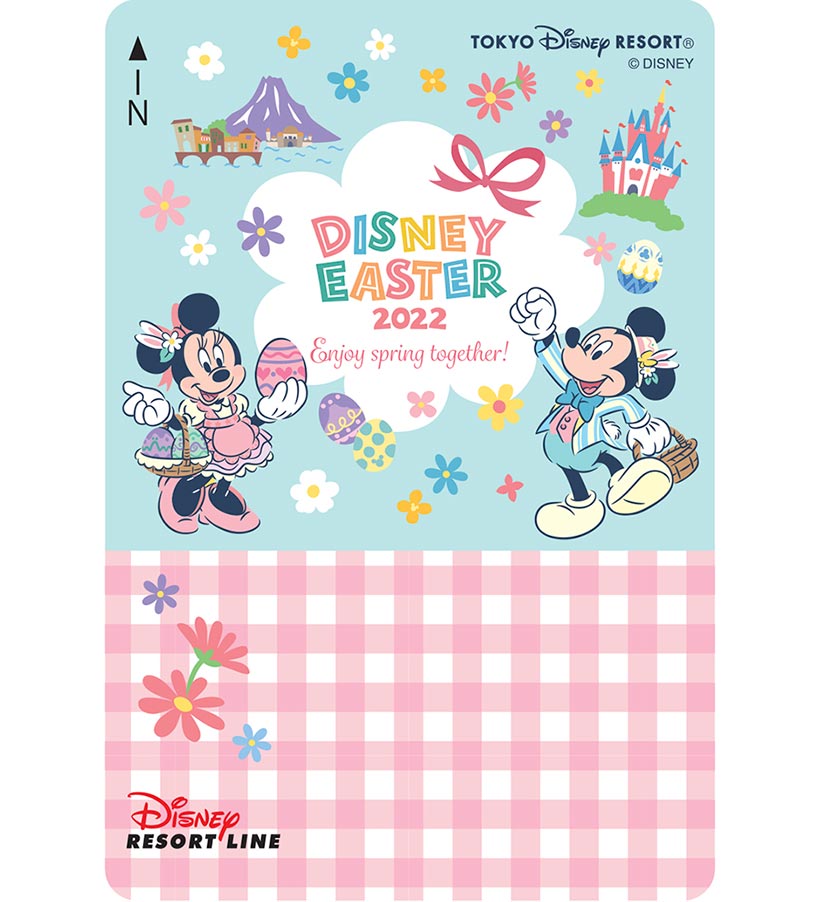 Disney's Easter at Tokyo DisneySea
At Tokyo DisneySea, the Mediterranean Harbor's Papelino Street will come alive with gorgeous flowers in full bloom along with various decorations and paintings of Spring at Tokyo Disney Resort.
Disney's Easter at Tokyo DisneySea also includes:
Spring time decorations on Mediterranean Harbor's Papelino Street
Spring Themed Merchandise

on sale March 31st -June 30th 2022

more information to come

"Seasonal Taste Selections" menu to include 'Sakura' themed items
Merchandise
In addition to the Easter merchandise collection, DisneySea will be selling "Spring-time" themed merchandise, featuring Disney style flora and fauna. Most merchandise is available from March 31st, with a small number of items being released on May 10th.
Disney Ambassador Hotel Easter Menu
During the Easter period, Disney Ambassador Hotel offers special menus and drinks with a "Disney Easter" theme. Limited edition coasters and charms will be available.
All information and images from the Tokyo Disney Resort website and press release.
Take a look back at Easter throughout the years at Tokyo Disney Resort with our previous guides:
More Things to Do in Tokyo
My recommendations for things to do in and around Tokyo! Plan a day at the Hello Kitty theme park, Sanrio Puroland, and an afternoon at the popular TeamLab Planets TOKYO. Take a tour around Tokyo with the convenient hop-on and-off bus. Spend a rainy afternoon inside Japan's largest indoor theme park, Tokyo Joyoplis, near Tokyo Disney!
More on Tokyo Disney Resort
Tokyo Disney Resort Guidebook
Are you planning a trip to Tokyo Disney Resort? If so, you need our digital guidebook! Our guidebook is the most comprehensive resource available, covering everything you need to know about the park, including tickets, hotels, restaurants, attractions, shows, seasonal events, and more! With our guidebook, you'll be an expert on Tokyo Disneyland and Tokyo DisneySea before you even set foot in the Parks. You'll know what to expect, where to go, and what to do. You'll also be able to avoid the crowds and make the most of your time.
Get tickets for Tokyo Disney Resort
It's vital to buy your tickets ahead of time for Tokyo Disneyland and Tokyo DisneySea. Read our comprehensive guide on tickets to learn how to purchase tickets. For recommendations on SIM cards, portable Wi-Fi devices, travel insurance, cheap flights, and hotel bookings, read our travel resources page.
Learn more about Tokyo Disney Resort
Want more Tokyo Disney content? Browser our dedicated page for everything Tokyo Disney Resort!
Support Us
Enjoy our content? Support us on Patreon as it helps us continue bringing you content to help you plan your trip!
Follow us on YouTube, Instagram, TikTok, Twitter, Facebook, and Pinterest.
Buying services through these links at no extra cost to you help support TDR Explorer. Some links may be affiliate links to services I recommend. Please read our full disclosure for more details.