Toy Story Hotel Opens April 2022 at Tokyo Disney Resort
Toy Story Hotel Opens April 2022 at Tokyo Disney Resort
---
Tokyo Disney Resort has officially announced an opening date of Tuesday, April 5, 2022 for the Toy Story Hotel. The hotel is the first "Moderate" type hotel at the Resort, which falls between the "Deluxe" and "Value" hotels already available at Tokyo Disney Resort. Reservations for the hotel started being taken on February 10, 2022.
Table of Contents
Accommodation
Tokyo Disney Resort has provided a sneak peek of what guests can expect when the hotel opens.
Toy Story Hotel features accommodations inspired by Andy's room from the first Toy Story film, complete with the iconic blue sky and white cloud wallpaper. The highly themed room includes an Etch-a-sketch television, Pixar Luxo lamp, an oversized Mickey Mouse wristwatch, and of course, a poster of Buzz Lightyear.
Pricing
Toy Story Hotel offers 595 rooms – 575 standard rooms, and 20 superior rooms. Rooms with a capacity of three adults have two regular beds and one trundle bed, while rooms with a total of four adults have a pull-down bed as the fourth bed.
| | | | |
| --- | --- | --- | --- |
| Room Type | Capacity | Room Size | Price |
| Standard Room | 4 | 29 sqm | 28,500 yen ($247.22 USD) |
| Standard Room (27sqm) | 3 | 27 sqm | 26,500 yen ($229.87 USD) |
| Standard Room (Bay View) | 4 | 28 sqm | 29,000 yen ($251.56 USD) |
| Standard Room (Bay View) | 3 | 27 sqm | 27,000 yen ($234.21USD) |
| Standard Room (Square view) | 2 | 28 sqm | 27,000 yen ($234.21USD) |
| Superior Room (Square view) | 4 | 35 sqm | 32,500 yen ($281.92 USD) |
Hotel Facilities
The concept art of Toy Story Hotel's main entrance foyer features a whimsical game board ceiling and puzzle floor. Toy Story Hotel will feature a Pizza Planet-themed gift shop, 'Gift Planet,' selling hotel-exclusive merchandise. A second shop, 'Shop Together', will sell daily necessities such as soft drinks, sweets, and baby products.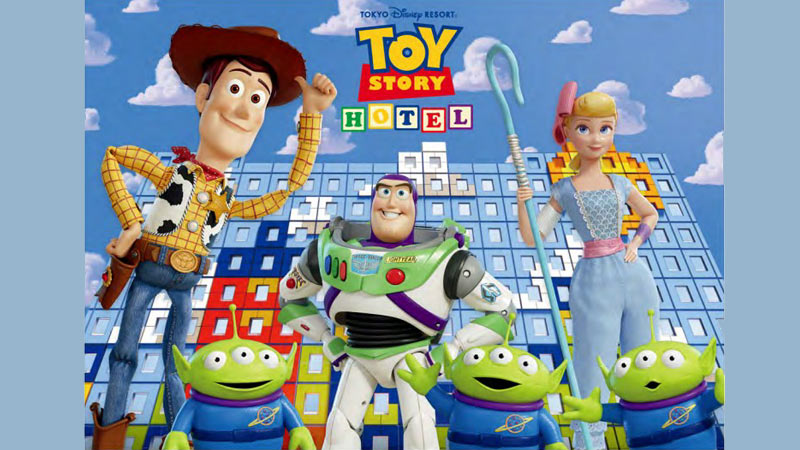 Guests staying at Toy Story Hotel can dine at Lotso Garden Cafe, which will offer a breakfast buffet from 6:30 am -10:00 am and a dinner buffet from 6:00 pm – 9:00 pm. The use of Lotso Garden Cafe is limited to guests staying at the Tokyo Disney Resort Toy Story Hotel, with reservations required.
| | | |
| --- | --- | --- |
|   | Breakfast | Dinner |
| Adult (13 years old and over) | 2,800 yen | 4,200 yen |
| Middle-aged (7 to 12 years old) | 1,700 yen | 2,300 yen |
| Child (4 to 6 years old) | 1,100 yen | 1,500 yen |
| 3 years old or younger | Free | Free |
Hotel Entrance
The signage for the Toy Story Hotel was unveiled on Friday, March 11, 2022!
Outside the hotel courtyards, guests can take pictures with prominent figures of their favourite Toy Story characters. Woody and Bo Peep can be found in the Toy Friends Square near the lobby, with Buzz Lightyear and Jessie in Slinky Dog Park located near the front entrance.
Slinky Dog Park
Here's a first look at what Slinky Dog Park looks like!
This is the second Toy Story-themed hotel (the first one is at Shanghai Disney Resort,which is a Value hotel) at a Disney Resort. Also, a new Luxury hotel is planned for the Tokyo DisneySea expansion in 2023, which is likely considered a Deluxe hotel.
The Tokyo Disney Resort Story Hotel is a "Moderate" type hotel and the first of its kind at Tokyo Disney Resort. Here's a quick rundown of the types of Disney Hotels at the Resort. For more information, read our Tokyo Disney Resort hotel guide!
Location
The Tokyo Disney Resort Hotel is beside the popular Hilton Tokyo Bay Hotel on the monorail loop at Bayside Station. This is the same area where the new Fantasy Springs expansion is located.
Feature photos and information from Tokyo Disney Resort.
More Things to Do in Tokyo
My recommendations for things to do in and around Tokyo! Plan a day at the Hello Kitty theme park, Sanrio Puroland, and an afternoon at the popular TeamLab Planets TOKYO. Take a tour around Tokyo with the convenient hop-on and-off bus. Spend a rainy afternoon inside Japan's largest indoor theme park, Tokyo Joyoplis, near Tokyo Disney!
More on Tokyo Disney Resort
Tokyo Disney Resort Guidebook
Are you planning a trip to Tokyo Disney Resort? If so, you need our digital guidebook! Our guidebook is the most comprehensive resource available, covering everything you need to know about the park, including tickets, hotels, restaurants, attractions, shows, seasonal events, and more! With our guidebook, you'll be an expert on Tokyo Disneyland and Tokyo DisneySea before you even set foot in the Parks. You'll know what to expect, where to go, and what to do. You'll also be able to avoid the crowds and make the most of your time.
Get tickets for Tokyo Disney Resort
It's vital to buy your tickets ahead of time for Tokyo Disneyland and Tokyo DisneySea. Read our comprehensive guide on tickets to learn how to purchase tickets. For recommendations on SIM cards, portable Wi-Fi devices, travel insurance, cheap flights, and hotel bookings, read our travel resources page.
Learn more about Tokyo Disney Resort
Want more Tokyo Disney content? Browser our dedicated page for everything Tokyo Disney Resort!
Support Us
Enjoy our content? Support us on Patreon as it helps us continue bringing you content to help you plan your trip!
Follow us on YouTube, Instagram, TikTok, Twitter, Facebook, and Pinterest.
Buying services through these links at no extra cost to you help support TDR Explorer. Some links may be affiliate links to services I recommend. Please read our full disclosure for more details.