Attack on Titan Food 2022 at Universal Studios Japan
Attack on Titan Food 2022 at Universal Studios Japan
---
The popular "Attack on Titan XR" ride is returning to Universal Studios Japan for the Cool Japan 2022 event! The VR ride layover of the Space Fantasy attraction will run from March 4 to August 28, 2022.
In addition to a line of park-exclusive merchandise, Universal Studios Japan is a range of themed special menu options to help immerse you into the world of the franchise. Special menu items are available from March 3, 2022, at Studio Stars Restaurant. Pricing will be provided closer to the date.
Let's take a look at the tasty food options!
"Levi Plate Set-At best … Choose your own way of eating without regrets"
Tea-flavoured roast chicken-free or despair ahead … teriyaki sauce or chilli tomato sauce-, broccoli & lentils, sweet potato butter, cauliflower tart, bread, onion consomme soup, soft drink (R)
"Ellen Plate Set-Since it's okay, shut up and eat as you like! !! "
Butter chicken curry & tomato rice, papad, meatball cumin flavour, sweet potato butter, cauliflower tart, onion consomme soup, soft drink
"Training Corps Kids Set-If you can't eat, you can't win"
Bacon & hamburger demiglace sauce, sweet potato butter, free wings crepe & pumpkin salad, bread, onion consomme soup, tiramisu cake, orange drink
[Left] "Armin's dessert that became a giant giant-Mango pudding glass parfait"
[Right] "Dessert wrapped with Mikasa's red muffler-Peach Melba-style milk chocolate mousse"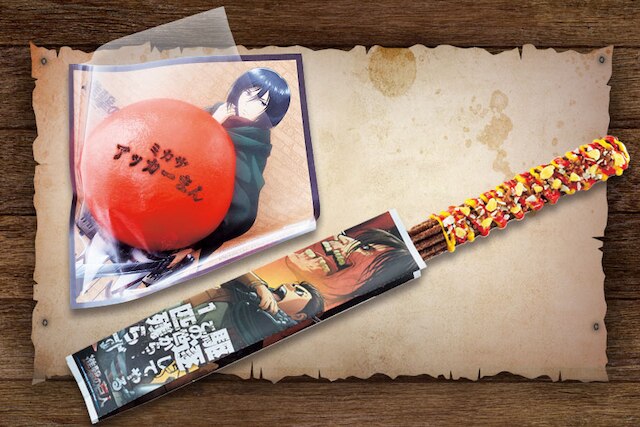 [Top] Mikasa Ackerman-Miso Chicken, [Bottom] Chocolate Churro with sprinkles
Attack on Titan Drink Cups
Information and images from Universal Studios Japan.
More on Universal Studios Japan
Book Your Flight
I personally use Google Flights & Momodo to find affordable flights. Another great way is to sign up for Scott's Cheap Flights to get notifications of cheap fares, which happens a lot to Japan. You'll sometimes stumble on cheap flights to Kansai International Airport.
Buy Your Shinkansen Tickets (Bullet Train)
Getting around Japan by the world-renown bullet train, known as the Shinkansen, is incredibly fast, reliable, and affordable for visitors. You can travel from Tokyo to Osaka in just over 2-hours. Get yourself the JR Rail Pass to save a ton of money on the bullet train for your trip.
Book Your Hotel
Universal Studios Japan has affordable accommodations that are steps away from the Park with easy access to Osaka. I recommend checking prices through Booking.com followed by the hotels directly. Sometimes you're able to score some incredible deals. Here's a shortlist of hotels at Universal Studios Japan I recommend.
The Park Front Hotel at Universal Studios Japan – You're directly in front of the Park gates and have instant access to Universal CityWalk Osaka. The rooms are gorgeous and have restaurants and even a Lawson (Japanese convenience store).
The Singulari HOTEL & SKYSPA – Attached to the train station is this simple hotel fantastic for those who want a comfortable, clean, and stylish place to sleep. After a long day at Universal Studios Japan, the rooftop sento (public bath) is great to unwind and relax.
Hotel Universal Port – For the Minion fan in your family (I'm looking at you Mom and your Minion memes you share on Facebook) this is a great hotel only a 5-minute walk from Universal Studios Japan. It also boasts the largest breakfast buffet in Japan that's a must during your visit.
Buy Your Tickets & Express Pass
Save yourself time and stress by buying your tickets and Express Pass for Universal Studios Japan in advance. The less time you spend in line buying tickets the more time you have to enjoy everything in the Park!
Stay Connected
Universal Studios Japan only offers free wi-fi at the entrance to the Park. That's not enough to stay connected and share your day with everyone back home to give them FOMO on Instagram. Here's how you can stay connected while travelling in Japan.
Pocket Wi-Fi – If you're travelling with a group or have multiple devices this is your best and affordable way to stay connected to the internet. Pick up and drop off at the airport. Easy.
Japan SIM Card – If you have an unlocked phone and need a Japanese phone number this is the best and easiest way.
Get Yourself Travel Insurance
While travelling aboard having travel insurance protects you against injury, cancellations, illness, and other things you're never able to predict. Whenever I travel, I always budget for travel insurance to protect myself. I've had to use it in the past and I'm so glad I had it. My recommended company is World Nomads for travel insurance.
Learn More on Universal Studios Japan
Don't forget to study our in-depth destination guide on Universal Studios Japan for even more information on this wonderful park in Osaka.
Some links may be affiliate links to services I recommend. At no extra cost to you, buying services through these links help support TDR Explorer. Please read our full disclosure for more details.